Eckel Acoustic Panels Applications
MITIGATE INTOLERABLE AUDITORY CONDITIONS
Eckel Acoustic Panels Systems increase the intelligibility of speech.
Decrease the risk of harm from exposure to excessive noise.
320
Panels in Rec Center Project
550
Panels in Building Renewal
210
Panels in NEW WWTP Project
95
Panels in Latest Pool Project
Eckel Acoustic Panels control noise + reverb in virtually any application.
Architectural Noise Control Panel Systems. Innovative Technologies to Better the Human Experience.
Acoustic Lay-in Panels (ALPs)
Eckel ALPs are a convenient and method for upgrading the performance and appearance of ceiling tiles. Replacing as little as 1/3 of the existing panels with Eckel ALPs will result in a substantial performance improvement.
Eckel Learning Panels (ELPs)
Extra rugged and tamper proof, Eckel Learning Panels (ELPs) are ideally suited for correcting noise and reverb in classrooms, hallways, and libraries of schools, academies and other pedagogical environments.
Eco-Logic Environmental Barriers (EEBs)
Eco-Logic Environmental Barriers (EEBs) are ideal for exterior noise & reverberation control of industrial facilities. Fortified for all seasons weather and designed for performance.
Eckel Correctional Panels (ECPs)
Eckel Correctional Panels are designed to provide an extremely rugged and robust noise control system for correctional facilities such as jails, prisons and other high security environments.
Eckel Functional Panels (EFPs)
Sound absorbing EFPs can be spot located on walls and ceilings to achieve effective & economical noise control. EFPs are independent panels and can be fastened into place without disturbing utilities.
Delta Acoustic Panels (DAPs)
The unique panel design and edge geometry provide maximum sound absorption in flush mounted wall and ceiling applications. A NRC of 1.05 makes this panel ideally designed for restaurants, studios & conference rooms.
Eckel Security Panels (ESPs)
ESPs provide a continuous acoustic ceiling treatment and a tamper-resistant attachment system, ideally suited secure locations requiring noise and reverberation control systems.
Flat Functional Panels (FFPs)
FFPs feature superior acoustic performance and control sound. They are ideal for offices, schools, studios and music practice rooms, libraries, retail operations, and other commercial facilities.
Delta Absorption Reflection Panels (DARs)
The Delta-ARU panel provides both absorptive and reflective surfaces for environments requiring a variable variation time such as in performing arts centres & concert halls.
Case Studies
Eckel Acoustic Panels effectively and efficiently absorb sound and reduce noise in spaces small and large – from WWTPs and recreational facilities to restaurants and concert halls to libraries and industrial plants. These high performance, durable and versatile panels increase the intelligibility of speech; mitigate distracting, unpleasant and even intolerable auditory conditions; and decrease the risk of harm from exposure to excessive noise.
Eckel Acoustic Panels come in a range of sizes and styles, and can be readily positioned within the host room to achieve optimal noise reduction performance. Available in aluminum or steel, they can be customized and finished to fit and complement any architectural layout and interior design. Easy to install during new construction or as a retrofit item Eckel Acoustic Panels are an economical and effective means to controlling noise and creating ideal acoustic conditions.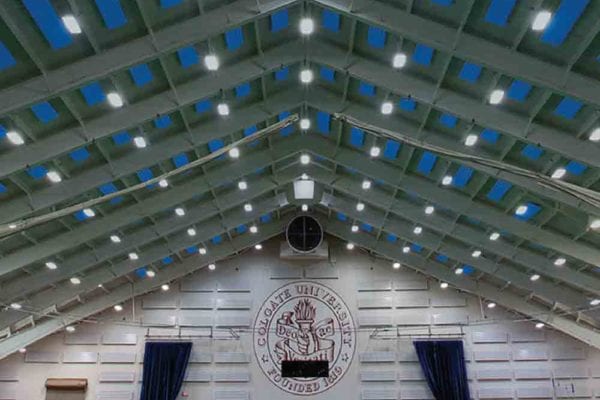 Colgate University is nestled in a pastoral setting in Hamilton, NY. Dating back to 1819, the school, first started as...
read more →
January 11, 2019
What our Clients Say
The acoustic panels have really improved our ability to utilize the Fieldhouse as more than just an athletic facility.The acoustics during Commencement as well during our Spring Concert improved drastically, allowing the speaker and attendees to hear and understand the presentations and the music more clearly.We should have done this sooner!
- Joseph M. Inman, Project Manager, Colgate University
Natatoriums are notorious for presenting difficult acoustic challenges... given the large volume of these spaces, poor acoustics make the spoken word hard to understand and give rise to excessive noise from even the simplest activities. My challenge and goal was to create an environment where speech communication would be clear and multiple activities could occur simultaneously without deterioration of sound or enjoyment.
- Bill Hannon, Chief Consultant, DH Kaiser
I want to thank you for providing the wonderful acoustic panels. They are AMAZING!! Our staff has noticed that their voices and kennel doors don't echo as they did in years past, not to mention the echoing dogs barking. We have also noticed how much calmer our dogs are during recovery following surgery. Our maintenance men installed them quickly and without any problems. I wish I had made these improvements 20 years ago!! Please thank all of those who helped manufacture the panels and let them know how much we appreciate their hard work! 🐶☺
- Linda Endow Hall, Bonners Ferry Veterinary Clinic